It's hard to describe what makes working at Canva so special. One thing's for sure, our incredible Canvanauts (that's how we refer to our people) are key to our success.
Our goal since day one, has been to build a culture and environment where everyone is empowered to grow, thrive and do the best work of their lives. Since then, our team has grown to over 3,500 Canvanauts working around the world, with offices in 8 different countries - including our recently opened London campus. And we're still equally as committed to our goal now, as we were in the beginning.
So we're handing over to Canvanaut Daniela Nyarko, to share why she feels empowered at Canva.
Hi, I'm Daniela Nyarko, Strategic Consultant
I joined Canva UK just under a year ago, bringing my 10 years of sales and strategic alliances experience in tech and bilingualism (I also speak German) to this role. Outside of work, I have a passion for travelling, brunching and spending time outdoors, especially with my dog Willow!
A place where I could see myself
One of the many things that drew me to Canva, was that I could truly identify myself here. I wanted to work for a company that was innovative and dynamic, but with strong values. It's not often that you find that combination in a profitable tech company.
Now having worked here a while, I can definitely say this is a place where I can be myself. I love that Canva really understands that every person has their own strengths and areas for growth, and you can truly come as you are.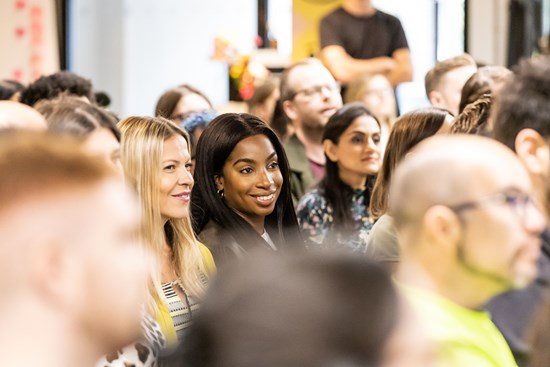 Daniela and other Canvanauts at a London campus event.
What keeps me ticking
I've been reflecting on what I'm most proud of in my role, and what gets me out of bed in the morning - and I would say its a mix of two things:
The first is that we're empowered to bring our entrepreneurial spirit to the table, to create opportunities. Whether that be new sales opportunities through strategic partnerships or conversations, or initiating a new project that I get to see through to implementation, I feel like I'm able to take charge of my own journey.
The second is that at Canva we're making a global impact. I was presenting recently at a Canva event and I was amazed that there were people joining from all over, from Africa to Europe, to the US and everywhere in between. I'm always proud when I see our reach and the impact our product has on people at an unexpected scale.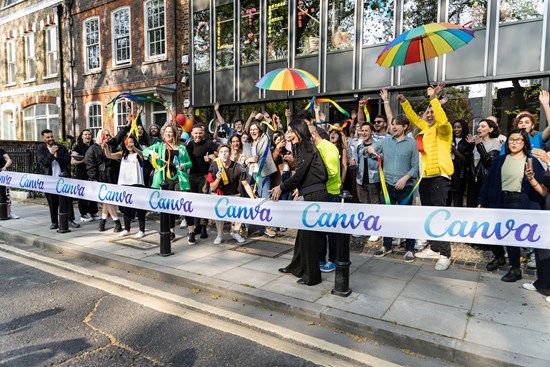 And it's official! Melanie Perkins, Canva Co-Founder and CEO, cutting the ribbon at our London campus opening.
What empowerment means to me
To me, empowerment is about having a person-first approach. Really trusting and believing in that person and allowing them to step out of their comfort zone to strive to be their best. Empowering people to bring their knowledge to create change, move things forward, to be heard and seen.
I definitely feel this at Canva in so many ways but especially with my Coach (Canva's term for 'manager'). I know there is always someone invested in my progress, helping me make an impact and strive to be my best.
And it has a ripple effect. It's infectious. I know that if I am empowered, it will have an impact on others too.
Canvanauts having a blast, celebrating during our London campus opening event.
If you want to truly be empowered, Canva is the place
My advice to anyone wanting to join Canva is to get ready to embrace the impact you'll make in the world. It's absolutely the best place to be.