I joined Canva as the cofounder of Flourish, the data storytelling platform that became part of the Canva family in 2022. I now oversee data visualisation in the Canva and Flourish products. I'm based in London and am the Regional EMEA Lead, helping drive collaboration and success across the region.
With the official launch of our London campus last week, I've been reflecting on what I have found most surprising and unique about Canva during my journey here so far.
Canva is a force for good

A couple of years ago, cofounders Mel and Cliff gave the majority of their shares – around 30% of the company – to a charitable trust called the Canva Foundation. As a result, almost a third of all value created by every team member now accrues to good causes, such as tackling extreme poverty and ensuring universal education. For me, this is one of the most unique and exciting things about the company. The commitment to doing good is also visible in day to day operations. For example, we offer free premium accounts and event spaces to charities, teachers and non-profits.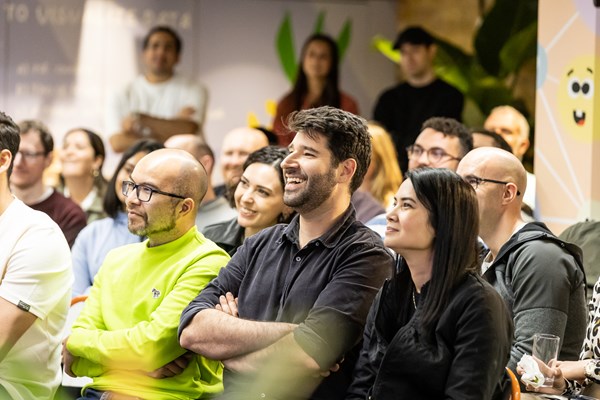 Canva's cofounders, Cameron Adam, Cliff Obrecht and Melanie Perkins at our London
campus.
Impact, not vanity metrics

Some software companies are obsessed with unhealthy metrics that don't reflect their underlying health – for example, growth in valuation and headcount rather than sustainable growth in revenues. The fact that Canva isn't remotely like that is one of the things that attracted me to it. It's a grounded "real" business that has remained profitable for six consecutive years. That means it's not stuck on the fundraising treadmill, which not only gives us the best chance of long-term success, but also ensures that we're not in a position where we need to cut roles as soon as the market turns.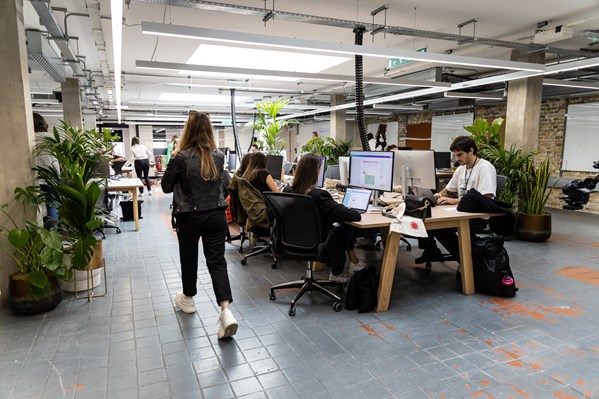 Inside our London campus in Shoreditch
Canva is truly global

When I joined Canva I was really struck by its amazing global reach. Our huge user community is spread all over the world, from Argentina to Zambia. That's partly because of the usefulness and affordability of the product. But it's also because of Canva's early decision to make the tool available in dozens of languages – a global instinct that perhaps came quite naturally to an Australian company, compared to one based in Silicon Valley. But the most exciting thing about Canva's global reach is its continued rapid growth. We now have 125m monthly active users – around 200% more than when I first spoke to Canva two years ago!
Startup feel

Although Canva is now several thousand people, in some ways it feels more like a startup – partly perhaps because it's still very much a founder-led company. In my experience it's unusual to retain so much energy, optimism and ambition as a company scales. Some other aspects of the culture that I value are a family-like friendliness, a relative lack of hierarchy and a genuine commitment to wellbeing. It's also great that we've retained the ability to move fast when needed, such as staying ahead of the crowd in launching AI-powered features.

Canvanauts celebrating the opening of our London campus.
The European opportunity is massive

Europe has one of the highest concentrations of knowledge workers in the world, so while Canva already has tens of millions of users across the continent, there's still a huge opportunity and it's exciting to see the Europe team scaling up to capture the growth. There are now around 200 people based at our hubs in London, Vienna and Prague – which we're committed to making the most rewarding and fun places to work in Europe. While we might be a long way from Canva's Sydney HQ, that gives Canva Europe an exciting startup feel all on its own – with a great mix of local energy and global impact.
Ready to do the best work of your life? Check out our open roles.